Helicopter Escapade - A Glimpse of Transylvania

Incentive trip, departure from Bucharest
code (HeBu-008)
Programme
Leave the busy city life behind for a breath of fresh air!
Morning transfer by stretch limo from the hotel to the airport.
On board of the Eurocopter AC 365, enjoy a flight over Sinaia, admiring Peles Castle one of the most beautiful royal residences in Europe and over Bran Castle Transylvania's symbol, also known as Dracula's Castle.
Disembark in Sinaia, the pearl of mountain resorts in Romania known as the Carpathian pearl; enjoy a traditional Romanian welcome with salt and bread and a glass of fine wine. Our English speaking guide will connect with you and accompany you to Peles Castle. The great edifice was built in 1873, on the order of Carol de Hohenzollern - Sigmaringen - King of Romania from 1866. The castle is an architectural mixture of the German School and neo-renaissance style. It has 160 rooms, all of them opulently decorated in leather and wood from the most valuable tree species. The castle also served as the retreat residence of most of Romania's monarchs - Carol I, who died here in 1914, King Ferdinand and Queen Maria of Romania (the niece of Queen Victoria of Great Britain).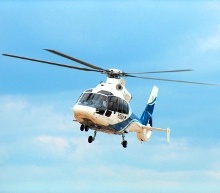 Delight yourself with a delicious traditional Romanian hunting lunch in Hunting Chalet; all the trophies exposed here belonged to ex-dictator Nicolae Ceausescu, renown for his hunting skills! The pheasant soup, trout on celery bed, stuffed quail, venison medallion will be washed down with the finest Romanian wines and of course the traditional Romanian fire water!
Transfer back to the helicopter for the flight back.

Excursion length: approximately 6 hour, out of which 1 hour and 40 minutes flight time.
Price
€ 6993 for group of 7 tourists
€ 6859 for group of 6 tourists
€ 6726 for group of 5 tourists
€ 5999 for group of 4 tourists

Price includes:
- limousine transfers from/to your hotel in Bucharest to heliport
- the helicopter, fuel, airport taxes, the services of an English speaking pilot and the refreshments on board
- private visit and the services of an English speaking guide for Bran and Peles Castles
- lunch in Sinaia, in Hunting chalet belonged to ex-dictator Nicolae Ceausescu
- car transfer in Sinaia from landing site to the castle, to the hunting chalet and back to the helicopter


Optional services:
- use of the VIP saloon and catering Baneasa Airport;
Other mentions
Please note that the flights depend on appropriate weather conditions.

Testimonial

"I would like to extend my sincere thanks to Transylvania Live for making our trip the fantastic event it was. Your attention to detail and hospitality was incredible."
Jason L., Johannesburg, South Africa

Reservations
We accept MasterCard and Visa on our on-line secure internet payment form, MasterCard, Visa, JCB, Diners Club and American Expres by fax and by phone. We also accept payments by Moneybookers, bank transfer and Western Union.

Click here to see our Reservations page for more details.
Transylvania Live specialises in helicopter tours and we are here to offer you a personal, flexible and highly efficient service. Therefore, if you have any other queries or you would like to adapt your package in any way, for other departure areas or for a bigger number of passengers, we will be pleased to offer you any assistance that you may require.
I'm seriously considering booking.
Call me back!
(click here to provide us with your name, telephone number, preferred time of calling and we will get back to you)
Media Mentions
We're pleased to say that Transylvania Live - expert in Transylvania has recently garnered the attention of several publications and broadcasts
more details here